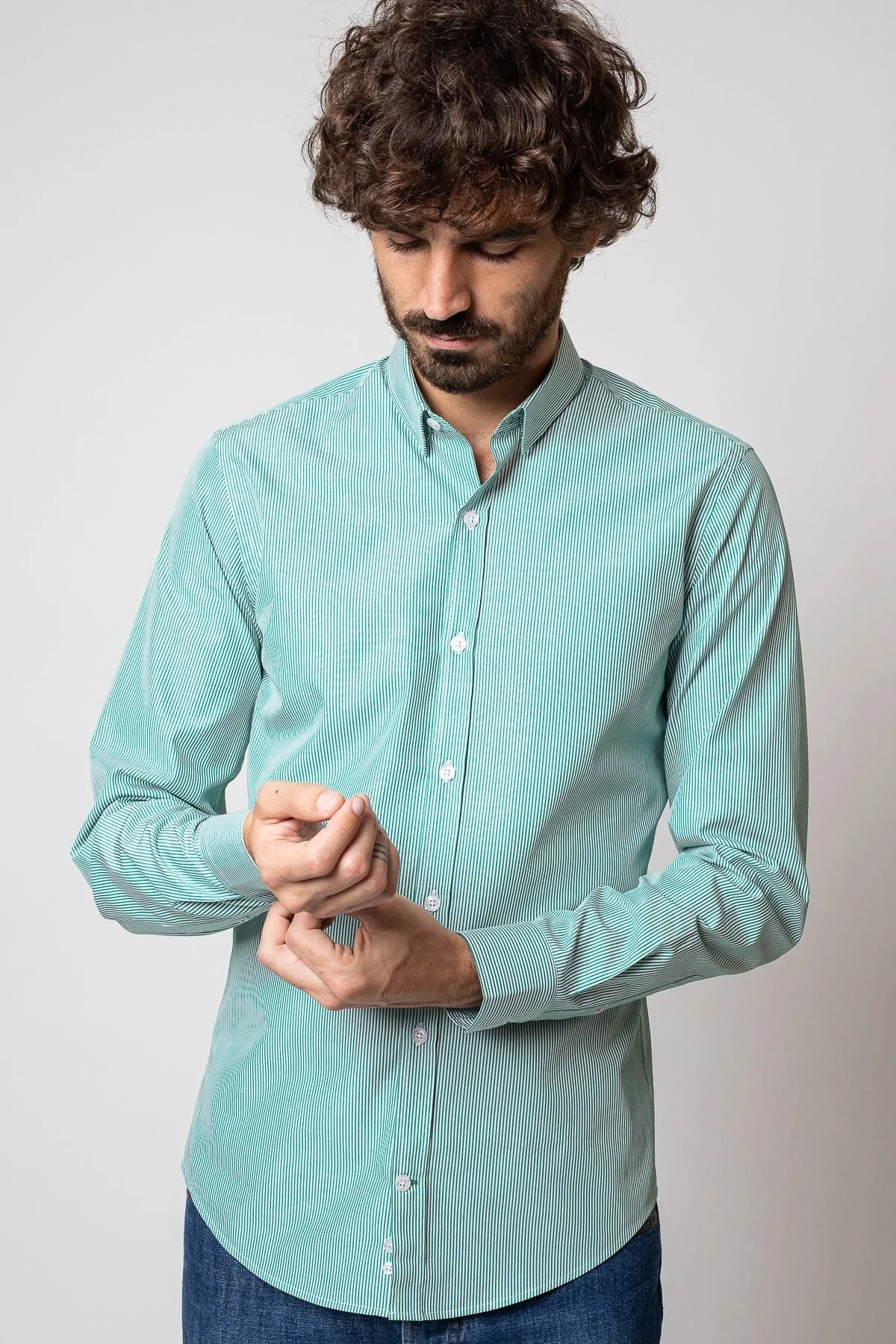 As we transition from our relaxed holidays to in-office days, it's time to retire your t-shirt-and-sweatpants uniform. 
Regardless of where you're at in your career, you'll want to wear something that says you're to be taken seriously, but you're also not a total square. Luckily, this happy medium is easy to achieve.
Not sure where you start, though? Read on for a few quick tips and suggestions.
Start with the basics
Whether you're heading back to a casual startup environment or a suit-and-tie setting, it's a safe bet to start with a crisp, cotton button-down, like our Vicomte A Conrad White Shirt
Sure, white is arguably the most versatile hue in your closet, but don't be afraid to add some personality to your fit. You could be a bright colors kind of guy, or maybe you jive with a clean, striped aesthetic. Either way, a top like Jaqk Tournoi Terence – Green Striped Shirt or Jaqk W. Faro – Beige Shirt is an easy way to add some intrigue to your look.
The good thing about warm climate is that you can still show up to work looking put-together without rocking a three-piece suit. For those balmy short-sleeve-necessary days, opt for a polo, such as Vicomte A Pablo White Polo or a more breathable shirt, Vicomte A Claude Sky Blue Wide Stripes Shirt.
Polish it off
With the right shirt as the pillar of your outfit, you can dress the rest up or down. Perhaps you'd like to lean into the fall color pallet in our Jaqk Walter Kaki Trousers, or something more classic like Vicomte A Lorenzo Dark Navy Chino Trousers.
Should you need to sport a blazer, though, a lightweight suit jacket strikes the perfect balance between formal and casual. Our Vicomte A Badys Taupe Linen Blazer is an understated yet modernly-structured piece, while Vicomte A Beloni Beige Linen Blazer is ideal for those who want a little extra detailing.
Moreover, another aspect of your outfit that sets the tone is your shoes. Sneakers have come a long way in the past few decades, lending unexpected refinement while remaining a comfortable choice. We think a perfect example of this very concept can be found in our Faguo Cypress – Beige Cotton Trainers. Simplicity, meet sophistication.
Lastly, we'd be remiss to not talk accessories. It seems that belts are back in a big way, but we'd recommend something neutral-colored for versatility purposes, like the Faguo camel belt in leather. Now, if the rest of your look is one solid color after the next, let your socks be the statement piece, like Faguo Set of 3X Socks – Beige Stripes, Red and Palm Trees.
So, let's breathe some new life into your wardrobe, shall we?