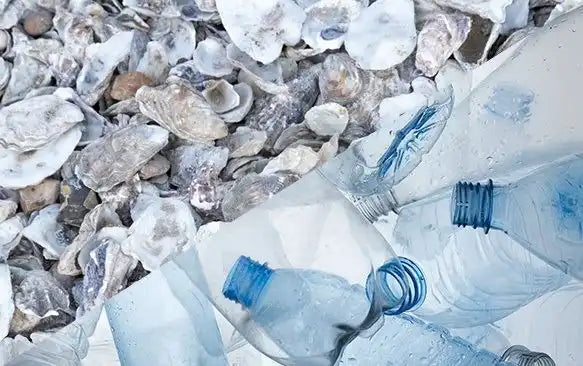 As you know by now, sustainable fashion is kind of our thing. That said, it should be no surprise that we're all in when it comes to exploring new, eco-friendly approaches to clothing production.
Moreover, one of the more recent developments we've begun participating in is utilizing seawool-crafted garments. 
But what is seawool, you ask? Well, after nearly a decade of testing, engineers figured out a way to turn trash into treasure. Simply put, this vegan wool alternative is a mixture of ethically sourced oyster shell composites and recycled plastic bottles. Both are pulverized into a fine powder and then transformed into yarn. (Pretty cool, right?)
According to an article from WWD, this hybrid fabric is as soft as cashmere and has an almost identical makeup to standard wool. Additionally, it's antibacterial, anti-static, odorless, and insulating (yet still breathable). What's more: it even provides UV protection and is wrinkle resistant.
Further, The Beet. reports that one sweater contains around five oyster shells and eight post-consumer plastic bottles. So, by putting upcycled and recycled waste to use, seawool leaves behind a significantly smaller carbon footprint than traditionally manufactured wool.
If you're down to try seawool out for yourself, may we suggest our Faguo Arcy Waves Embroidered blue t-shirt or the Faguo Lugny Terra Cotta t-shirt? Both shirts are created with 60% cotton and 40% seawool, so you can expect supreme softness while rocking environmentally conscious threads.
We love to sea it!